Goodbye My Friend
You'll forgive me if I wander off the hobby track for a moment. For those of you who've been reading Cybermodeler for a while, you know that my wife and I live out in the middle of the farm country, "fly-over country" we used to call it before moving here. In the time since we called this place home, we've managed to acquire a number of "rescue" animals and give them a good home. One such case was Sabaka.
Tammy (my wife) was running an errand after a heavy snowfall almost three years ago, and out in the middle of nowhere was a big black spot laying near the road. It was an adult black Labrador Retriever that had evidently been abandoned in the country. Tammy brought the dog home where we took care of him and took him to the vet the next day to see if he'd been injured somehow. While he checked out fine, after a series of ads and posters, we couldn't find the owner. We had ourselves a second dog. Since the other dog was Tammy's, this new member of the family was mine. I suggested we call him Sabaka (Russian for 'dog' - real imaginative, eh?).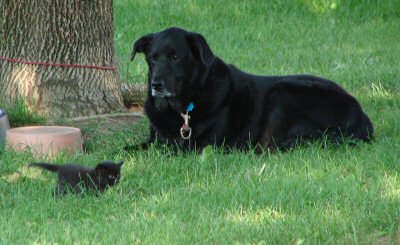 It took a little while for him to come out of his shell as he'd obviously been traumatized over whatever ordeal led him to be out in the middle of nowhere. Once he did come out of his shell, it was clear that he'd been a stunt double for the dog in Gary Larsen's Far Side cartoons. He'd love to wander around the area exploring, then instigate some situation to get the other dog in trouble. Ever see a black Lab with a halo over his head? Sabaka had the look of innocence mastered.
Sabaka blended in with all of the critters that live here, even the cats. When nobody was looking, you could find him curled up with a cat or two. If he heard one of us though, he'd quickly move to keep up his canine image. The photo above was one recent example where he'd heard me but not yet seen me. He'd been curled up with that kitten in the back yard before he quickly moved to hide the evidence...
Sabaka was king of our bed. He'd take turns curling up against Tammy and I during the night, and would even let the other dog on the bed. Sometimes. Otherwise he'd occupy whatever side of the bed was vacant.
About a year ago, the vet found a fist-sized tumor attached to Sabaka's bladder. We had it removed and he recovered from the experience and acted healthier than we'd ever seen him. This last year had been a great one with Sabaka, but he recently started having pain again and the vet confirmed that the cancer was coming back. We knew we'd have a serious decision coming, but...
This morning, I let the dogs out for their usual early morning (oh-dark-thirty) romp while I made coffee and fed the critters. A ring on the doorbell is unusual out here, but at that time of the morning, something was wrong. A couple was driving down our road and didn't see the black dog in the dark until it was too late. Sabaka had died instantly. My friend was gone. While I thank God that he was spared from the cancer, I wasn't ready to say goodbye just yet...