Project Airacobra - 1/48th Scale P-39 Kits Side-By-Side
Last updated 30 Nov 11
Background
Until a few years ago, the only option for a P-39 Airacobra in 1/48th scale was the Monogram kit, which is still a nice model even by today's standards. Along came Eduard with their release of the P-39 and for the first time we had an Airacobra with scribed panel lines. After Eduard ended production of their Airacobra series, Hasegawa released a new-tool P-39 series of their own. Not long after Hasegawa's first P-39s hit the shelf, Accurate Miniatures also released their own P-39 (re-box of the Eduard kit). So which one is better?
I decided to do a little side-by-side experiment as I had never built the Eduard kit and wanted to see how it would stack up against the Hasegawa version. I've built several of the Monogram Airacobras over the years (as have many modelers) so I focused on the newcomers.
The objective of this comparison was to see if there were any glaring differences in buildability and accuracy of either kit. To accomplish this, I did a quick-build of both kits using only Tamiya Thin Liquid Cement for construction. I didn't have to build-up the Accurate Miniatures kit since the plastic parts are from the Eduard molds. No paints, no fillers, no markings, and no photo-etched or resin parts. Just the styrene, side-by-side.
P-39 Differences
Here is a quick matrix of differences between the different production models of the Airacobra. The propellers are CE for Curtiss Electric and AP for Aeroproducts.
P-39

Mk.I/
P-400

C

D

F

J

K

L

M

N

Q

Nr Built

675

20

554

229

25

210

250

240

2,095

4,905

Cannon

20mm

37mm

37mm

37mm

37mm

37mm

37mm

37mm

37mm

37mm

Nose MG

2 x .50

2 x .50

2 x .50

2 x .50

2 x .50

2 x .50

2 x .50

2 x .50

2 x .50

2 x .50

Wing MG

4 x .303

4 x .30

4 x .30

4 x .30

4 x .30

4 x .303

4 x .30

4 x .30

4 x .30

2 x .50

Engine

V1710-35

V1710-35

V1710-35

V1710-63

V1710-59

V1710-63

V1710-35

V1710-67

V1710-85

V1710-86

Propeller

CE

CE

CE

AP

CE

AP

CE

AP

AP

AP

Drop Tamk

No

No

145 gal

145 gal

145 gal

145 gal

145 gal

145 gal

145 gal

145 gal

Dorsal Fin
Fillet

Yes

No

Yes

Yes

Yes

Yes

Yes

Yes

Yes

Yes
P-39 In-Box Reviews
P-39 Quick Builds
Comparisons
Both models go together smoothly. One was no more difficult than the other when dealing strictly with styrene. The Hasegawa kit has more detail presented in the styrene since the kit doesn't rely on photo-etched parts for details. This is a plus for the average model builder. The Monogram kit is also great for beginning modelers (out of production at present, but is frequently reissued). AMS modelers will like the Eduard kit as it comes loaded with photo-etch and more options in the box.
Here is a look at the similarities and differences between the different manufacturers. This table will be revised with each build or quick build as needed.
Revell-
Monogram

Eduard
Weekend

Accurate
Miniatures

Eduard
Profipack

Hasegawa

Scale

1/48

1/48

1/48

1/48

1/48

MSRP (USD)

$16.95

$19.95

$32.95

$33.95

$43.95

Street Price (USD)

$13.95

$16.95

$26.95

$29.95

$34.95

Source

Monogram

Eduard

Eduard

Eduard

Hasegawa

Detail

Raised

Scribed

Scribed

Scribed

Scribed

Fit Issues

None

None

None

None

None

Photo-Etched Parts

No

No

No

Yes

No

Nose Ballast

No

Yes

No

Yes

No
Pros and Cons
Common to All Kits
Pros
Nice-fitting one-piece windscreen/canopies
Kits have external stores
No serious fit issues, minimal filler will be required
Cons
None quite captures the opening of the dorsal intake, but nothing that a small file won't fix
All kits will require thinning of the trailing edges of the wings, elevators and rudders
Eduard
Pros
Transparent car doors which can be posed open to reveal the interior very nicely
Lots of nice photo-etched parts, including the great new color photo-etch for the cockpit (Profipack releases only)
Scribed panel lines
More parts options in the box
Pre-formed ballast for the nose so it will sit smartly on its landing gear
Engine compartment is 'boxed-in' should you decide to add an aftermarket engine
Main wheel wells look good
Cons
Rudder pedals are not recessed under the instrument panel. You'd have one heck of a time trying to fly with those rudder pedals so close to the seat
Instrument panel is too far forward, you should be able to see the rear of the panel from above
Wing leading edges just a bit too blunt
Wing trailing edges are a bit thick and will require thinning
Accurate Miniatures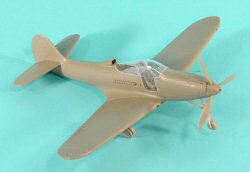 Pros
Same as Eduard kit plus:

Ventral radiator in resin to represent air racer modification
Cons
Same as Eduard kit except:

No photo-etch included
No nose ballast
Instructions do not cover the various mods needed to represent the air racers
Kit is essentially the basic Eduard kit with a Profipack price
Hasegawa
Pros
Transparent car doors which can be posed open to reveal the interior very nicely
The molded-in details are well done though the fuel filler caps/openings on the wings are a bit overdone
Rudder pedal placement and instrument panel placement are good
Cons
Will definitely need photo-etch to represent visible details like the machine gun charging handles
The instrument panel is okay, but doesn't hold a candle to the Eduard photo-etched panel
Cockpit doors didn't fit very well on my example
Wing trailing edges are thinner than Eduard, but will still require thinning
Main wheel wells have more refined detail, but have far fewer stiffening ribs that are far too large - nice to look at but not representative of the real aircraft
You're on your own for nose ballast
Monogram
Pros
Nice detailing in the cockpit
Engine inside engine compartment which can be detailed
Easy build
Cons
Raised panel lines
You're on your own for nose ballast
Currently out of production but in vast supply on eBay and at kit swaps
Summary
If you poke through the pros and cons above, the kits are nice straight from the box. The Eduard is nicer since it comes with a wealth of photo-etched parts for roughly the same retail price as the Hasegawa kit. The Hasegawa kit is nicer for the less experienced modeler that isn't quite ready to deal with photo-etched parts. While the Eduard kit does go together nicely, there are no styrene options for some of the details. The Eduard kit should be tackled by the experienced modeler or stashed away by the less-experienced modeler until that 'rainy day'.
If price is important, note that the Eduard Profipack kit features two frets of photo-etch and retails for the same price as the others with no photo-etch. The cost to add the same type of photo-etch to either the Hasegawa or Accurate Miniatures kits will set you back another $15.00.
All of the kits will build into nice replicas of the World War Two combat aircraft straight out of the box and do not have any serious problems with fit or accuracy as military P-39/P-400s.
References:
P-39 Airacobra in Detail, Bert Kinzey, Detail & Scale Aviation Publication, 1999, ISBN 1-888974-16-8